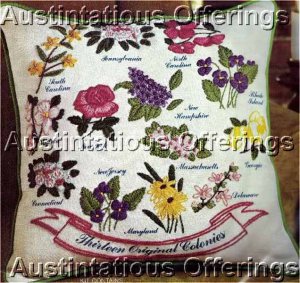 I was looking through google images for a crewel kit. Actually I'm hoping to find one for sale, but that's another story. (Not just any kit. So don't bother telling me about things for sale. I'll post about this later.)
Anyway. I found this image of a pillow on Austinatious Offerings. I stitched this for my grandmother back in 1974. And mine was framed. It hung in her house until she died in 2006. At the time I was hoping to take it home with me. But when I removed it from the wall and started looking at it carefully I noticed damage.
My grandmother, with her yankee fix-it attitude, had apparently unframed it at one point and added tissues behind it. Yup. Straight up tissue from a box that most of us would use to wipe our delicate little noses. Let me tell those tissues were disintegrating into an acid mess and they took the fabric with them. It broke my heart to toss this into the garbage heap, but I did.
This was a crewel kit sold by Avon in 1974. I love that she kept it on the wall in her living room all those years. Still miss you, Gram!